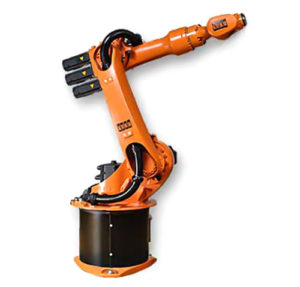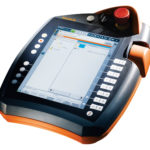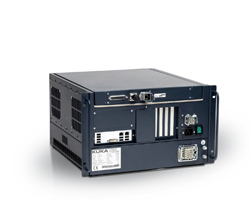 It mainly consists of :
– A 6-axis industrial robot (Kuka KR10 R1100 sixx Agilus in CN10 / KR20-3 R1600 in CN11 / KR60 HA R2000 high-precision in CN12 / KR120 HA R2700 high precision in CN13 with:
Absolute robot measurement to improve machining accuracy
– A robot controller with:
Security interface
Power interface
On-Off entry/exit card (EtherCAT bus extension)
– A color touch screen controller with manual settings (Smart Pad)
– A stand for the robot
– A spindle with compressed air refreshment (power 700W in CN10, 3300W in CN11 and CN12, 7000W in CN13)
– Machine tools to be defined according to applications
– Optional, pneumatic tool changer
– A KUKA calibration kit
– A USB restoration stick
 It mainly consist of :
– A machining table mounted on a frame , dimensions 650x1500mm, 1500x1500mm
– In OPTION, rotary table (7th axis) controlled by the robot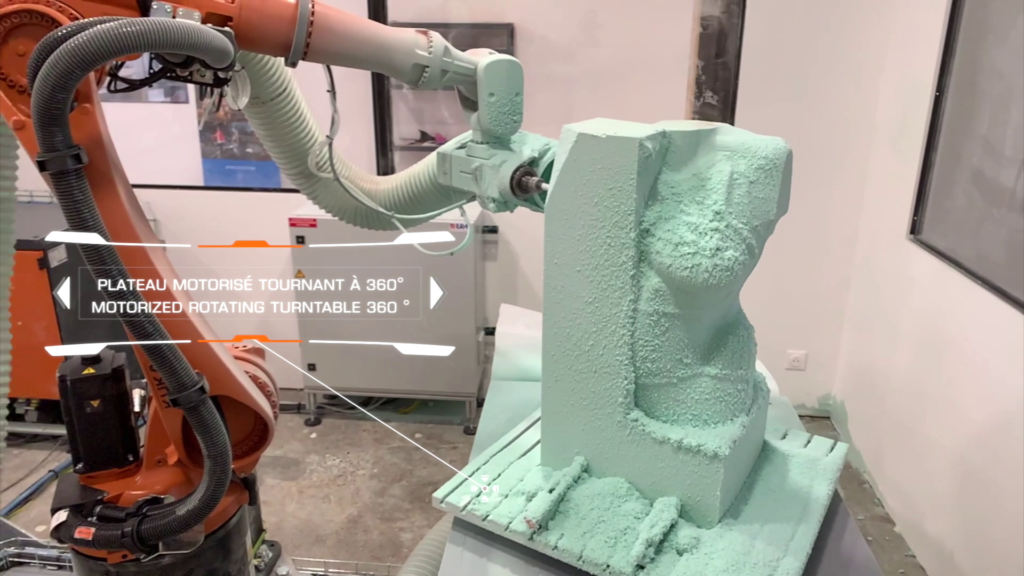 "Electric power and control" unit
It mainly consist of:
– Security controller
– Spindle speed drive 400V, digital keyboard and dissipation resistance
– Electrical protections for the actuators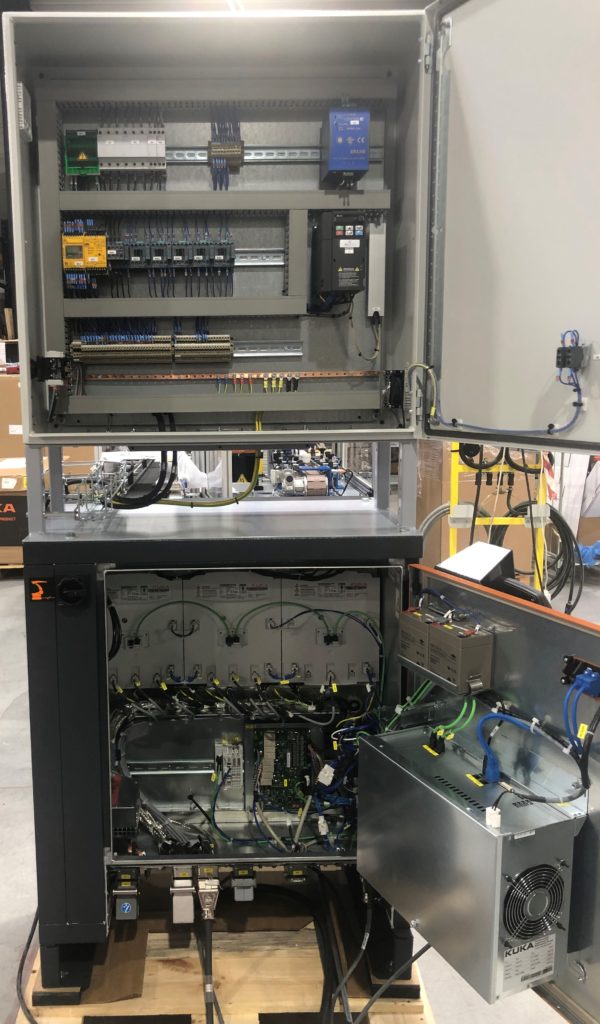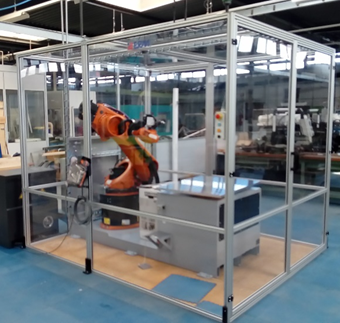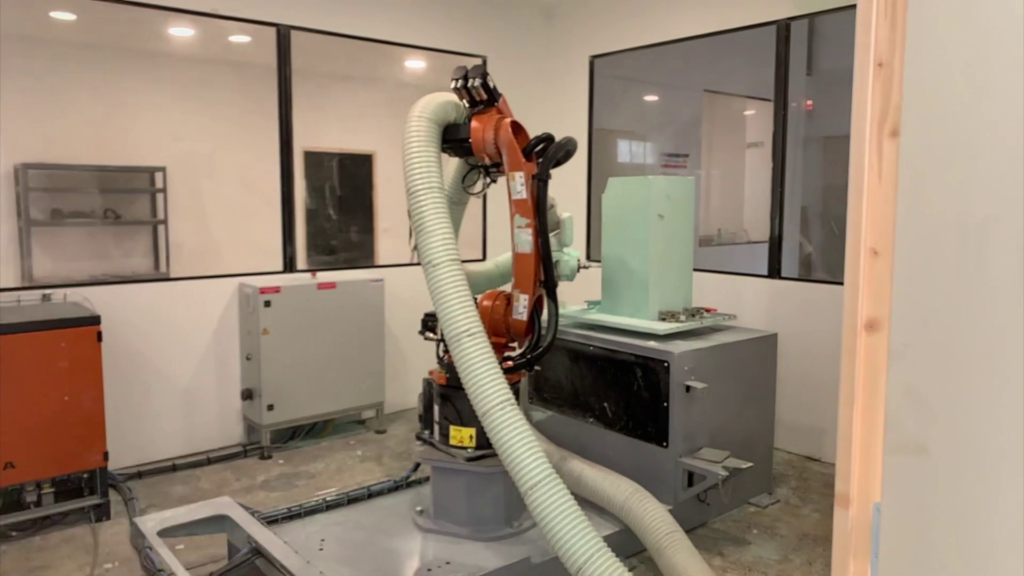 It mainly consists  of:
– A supporting frame with dimensions adapted to the robot's reach, made of aluminium with transparent polycarbonate panels mounted on a robust base
– One or more doors with security sensors connected to the safety controller and electrical controller
In OPTION, a dust and shavings extractor
This type of safety enclosure is imposed by standards for the operation of 6-axis robots in machining applications.
It is also possible to use a closed room (with visual access) as a security enclosure. The security sensors are then mounted on the door or doors of the room.
"extraction system for machinning shavings" unit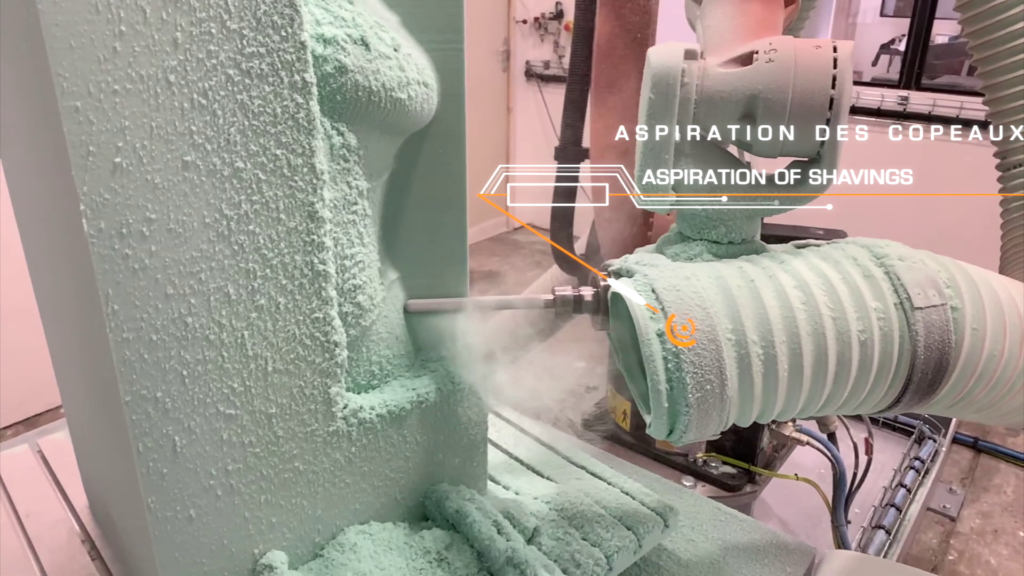 Electro-spindle with quick mounting HSK40, delivered with 2 HSK40 tool holders
Horizontal and vertical table set (for extended machining time)
HSK cone-mounted workpiece sensort and robot integration
Measuring system of tools by light barrier (contactless)